Employers value your college education, but they also want to hear how you can help them solve problems and reach their goals. Career Readiness Competencies (identified by employers from all industries and defined by the National Association of Colleges and Employers) are your career currency. Show evidence and articulate your skills in career & self-development, communication, critical thinking, equity & inclusion, leadership, professionalism, teamwork, and technology.
Building career readiness competencies and identifying career opportunities is a lifelong process. Use the Career Exploration Roadmap to guide you along the process.
Learn how you can develop and demonstrate your career readiness by clicking the buttons below and watching our video.
Get your career readiness score and suggestions for improving relationship building skills, professional communication, career planning & exploration, career & self-development, and internship/job search & interview preparedness by completing this career readiness assessment (~7-8 minutes to complete).
Learn how your resume or CV can reflect the competencies employers are seeking using this worksheet.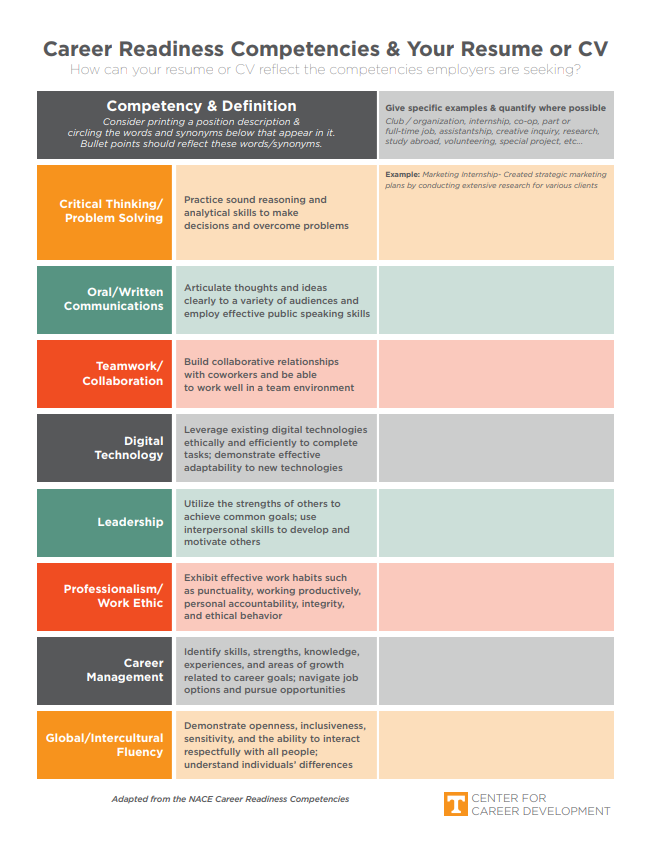 View example interview questions and how to incorporate the 8 career competencies into your answers using this worksheet.
View hundreds of short career readiness videos for tips and advice straight from professionals in the field.
Classroom to Career UNIV 1401
This course will equip students with the tools to prepare for a career or graduate school upon college graduation. Instruction in this eight-week class will focus on the following topics: Self-Awareness, Career Exploration, Work and Leadership Experience, Job/Graduate Search Strategies, Resume/Cover Letter Writing, Interview Skills, and Professional Networking.
Career Connections (ARSC 3013)
This course teaches students how to capitalize on their strengths, skills, experience, professional connections, and academic discipline. Key components of this course are guest lectures from on-campus and off-campus professionals, interactive group activities to practice professional skills, and the creation of an online portfolio. Prerequisite: Sophomore standing. (Typically offered: Fall and Spring)