You should be able to use your research to tailor your answers to the employer/position, demonstrate your preparedness and passion for the position, and develop strong questions to ask at the end of your interview.
Start by going to the company's website and reading about their products, services, stock performance, company history, organization, successes, current news, social media, Glassdoor, informational interviews, and future direction. Here are some tips on things to look for: company growth, financial information, company objectives/strategy/mission, market share, technology issues, legal & regulatory issues, reputation.
In addition to learning about the employer, you need to be familiar with the tasks and qualifications requested in the position description and what you find exciting. You should do research on your salary expectations and review salary negotiation best practices. Note that ideally, this discussion will not happen until there is an official offer.
Identify and write down specific examples of situations from your past work experience, classroom and academic accomplishments, student activities, and leadership that demonstrate your strengths and skills. Examples of teamwork, problem-solving, customer service, planning, taking initiative, communication, managing multiple projects with deadlines, leadership in a group, and ability to work well with diverse personalities and backgrounds are of special interest to employers. Think about how these relate to the job.
Know what is on your resume and be ready to discuss it in detail.
Identify your short and long range goals along with your reasons for wanting the position. How do those fit together?
How to Negotiate Your Salary
Congratulations! If you're reading this, you've probably received a job offer or are anticipating one soon. Salary negotiation is an important (if not THE most important) piece in the job offer stage. Follow these three steps to effectively negotiate your salary or view this printable infographic.
Step 1: Look at the job description and identify what skills and experiences you have that are relevant to the position. These will help you justify your request for a salary increase. The more skills that match the job description, the more justification you have to negotiate a higher salary! If you have additional skills or more experience not mentioned in the job description that could be useful for the position, that would be good to emphasize as well.

Step 2: Research the average salary for your position using the websites below. Be sure you are comparing jobs of similar functions and in the same geographic location.
Salary.com - Employer supplied data regarding employee salaries
Glassdoor - Employee supplied data regarding employee salaries
How Much - Salary calculator for cost of living, broken down to city regions
Pay Scale - Based on salary profiles by area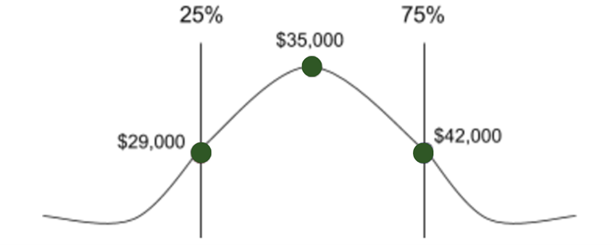 Once you've identified the average salary (ex: $35,000) for the type of position and region, identify your target salary based on your experience and skills that are relevant to the position. The more skills and experience that matches or exceeds what the job description lists, the higher your target salary can be. Once you've identified a target salary amount (ex: $37,000), determine a Bolstering Range. Use the bolstering range instead of your target salary when telling the employer how much you are hoping to be paid. This range is anchored on the low end by your target salary and then can go up to 20% maximum for the range. Telling the employer a salary range is better than a specific amount as it gives both you and the employer some leeway in the negotiation.

The Resistance Point shown on the image above is the lowest salary you will take. It is important to know this so that you know when to push back in a negotiation.
Step 3: Identify which benefits you are wanting to negotiate in addition to your salary. Benefits such as health insurance, flexible hours, retirement, vacation time, relocation expenses, hiring bonus, etc. can also be negotiated. This is important to remember as employers may be willing to negotiate a better parking spot or flexible hours to offset not being able to pay your targeted salary. Create a prioritized list of the salary and benefits you desire to negotiate, and practice speaking your planned negotiation out loud. Identify multiple ways that you can be told no in each step of your negotiation and develop persuasive responses.
Quick Tips
Don't name a salary first; instead deflect.
Utilize 'we' language and remain positive/flexible.
Get everything in writing at both the beginning and end.
Trust your gut. If you feel like the employer is unhappy that you're continuing to negotiate, trust your instincts.
After being granted an opportunity to be hired, to learn, or generally be helped, writing a thank you card is appropriate. Thank you cards can be send via post or email, depending on the situation.

Template:

Dear [Person you are thanking],

[Thank the person for the their time and support. Reference something specific you spoke about with them, such as a piece of advice or information that you found helpful or interesting and how you will implement it (if applicable). Mention your enthusiasm for the field or position if relevant.]

[Express a willingness to help them in the future.]

Sincerely,

[Your name]