Career Exploration Roadmap
Weaving lifelong career confidence & readiness into the full college experience and beyond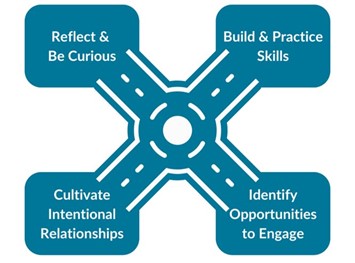 Reflect & Be Curious: Career Connections' Explore Careers page has resources to help you activate a reflective and curious mindset. Take a self-assessment, reflect on how your results relate to what you already know about yourself, your interests and experiences, and explore potential career paths with What Can I do with THIS Major? page.

Build & Practice Skills: Be Career Ready lists the skills most employers and graduate programs expect from applicants. Develop a practice of noticing when you're using these skills and describe your experiences with others so you're ready to articulate them to future employers. The Career Readiness Assessment can get you started identifying areas of strength and areas to develop.

Identify Opportunities to Engage: It's not enough to passively observe- find ways to actively engage with your U of A community to grow your skillsets, diversify your perspectives, and gain experience. Join with peers who share your interests and identities - HogSync is the perfect place to find student organizations & campus experiences. Want to connect with your community? Check out GivePulse for volunteer opportunities. Want to land an internship or job? Use Handshake where thousands of positions are posted specifically for U of A students to gain experience.

Cultivate Intentional Relationships: Conversing with peers, professors, and professionals can provide you with valuable insights, connections, and opportunities that set you up for success. Practice introducing yourself and having conversations with professionals at a Career Fair; Learn from others by having career conversations, Cultivate a sense of belonging by setting up your LinkedIn account, connect with alumni, faculty, staff and peers, and actively engage with the U of A community by posing questions, sharing knowledge & resources, and commenting on others' posts.
Tusk Tips:
Notice what topics, issues, and interests you're drawn to and excite you in class, with a student organization, at your part-time job, or wherever you find yourself feeling engaged and intrigued. These moments can connect you to potential career insights.
New career paths are created every day! Expand beyond a "soul mate" job title to explore how your strengths, skills & experiences could be used in the workforce.
Need some help? Drop into the Career Studio on the first floor of the CORD to meet with a Career Peer Mentor or make an appointment on Handshake with a Career Coach.